Welcome to the HyperVen website
Welcome to the HyperVen website. Your search on the internet has brought you to our site. On our site you can find all information about the hyperventilation phenomenon. It explains the difference between acute and chronic hyperventilation. You will see that the acute variant is a normal body function. In contrast, the chronic variant is a real disease / condition. And you can also discover the causes of hyperventilation.
Curing hyperventilation
Of course you are not only looking for information about hyperventilation, but also how to cure it. Curing the chronic variant is a multiple step process. The first step is to understand this disease. What happens in your body and especially in the respiratory center in the brain? Once you understand that, you will also understand the next steps of the healing process. That is why we provide a lot of background information on chronic hyperventilation, the respiratory center and the effects in the body.
Healing with HyperVen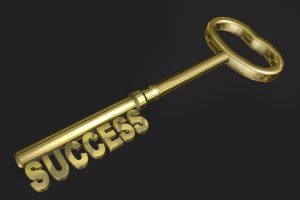 The key to healing lies in the re-setting of the respiratory center in the brain. This was successfully applied for the first time by the Dutch neurologist PhD. B. Snitslaar. He wrote a number of medical articles about the syndrome of chronic hyperventilation. You can find excerpts from these articles in the medical section of the site. Later Rob Gravesteijn together with PhD. Snitslaar built the HyperVen program around the therapy. You can order the HyperVen program via this website.
Hyperventilation and stress
An important chapter on this site is the section that deals with the relationship between hyperventilation and stress. We advise you to also take good knowledge of this. This background information is also part of the key to success to cure hyperventilation.
Questions and answers
On the site you can find special articles with frequently asked questions and answers. There are questions about hyperventilation and about the HyperVen program. We advise you to go through these frequently asked questions. They are a good addition to the already extensive information on our site. In addition, there are also a large number of success stories from people who have already done the HyperVen therapy and have healed themselves with this program.
If you are going to do HyperVen, you probably will have personal questions during the healing process. We are ready to help you. Finally, we wish you good health and a swift and easy healing process.
With kind regards,
Rob and Sanne
HyperVen
Frequently Asked Questions
Succes stories of the HyperVen users
I would like to share my result with HyperVen. My carbon dioxide level was very low: 32. This was measured in the hospital. The therapy initially had little or no result. On the contrary, I experienced a heavy setback. Slowly, however, things went better and better. I feel much better now. I am almost back my old self after five years of chronic hyperventilation.
One hundred HyperVen sessions since I started with HyperVen therapy. It went fast, very fast. My average increased from 60 seconds at the start to 195 seconds now. In less than three months. Right now I feel good. The last few days even symptom free. What a relief. It appears HyperVen therapy is extremely effective.
I did HyperVen therapy for 2 and a half months. Alternating from one to two times a day. I noticed that new people on the forums are still in doubt whether or not to purchase HyperVen. Probably to avoid another disappointment. But guys: do not wait any longer... I think this is the only thing that helps.
At the request of various people I want to share my story again. My chronic hyperventilation began about 13 years ago, after my father got a diagnosis that he only had a short time to live. 2 years ago I got a huge hyperventilation attack after many busy and stressful years. I decided to try HyperVen therapy a few months later. I have achieved a victory with HyperVen.
In August I started the HyperVen therapy. In the beginning my scores fluctuated enormously! However, I noticed after a few weeks that my symptoms became less. Less often and less violently. Yesterday I have been on a bike again for a long time to another village. And I have even went to the market. My hyperventilation is practically over. The program has helped me tremendously. I wish everyone a lot of success and a hyperventilation free life!
I want to thank the creators of HyperVen because ... HyperVen is super!! From January this year I started because I wanted to feel good at my wedding last Friday, April 29, 2005... And that worked out so well!!!!!! I had a fantastic day, without pain in my chest, dizziness or unreal feelings. Good luck to anyone who also uses HyperVen or has chronic hyperventilation!
Here is the story of a single mother. I have already stopped using HyperVen for 2 months now. And now that I've stopped for two months, things are really going better!!! There are days when I no longer have any doubts in my head. And I can do everything again.
I had very serious chronic hyperventilation in the 90's. I was in social security and could not work anymore. In addition to a whole range of doctors and examinations I had all kinds of medicines to make me "better". Because I did not understand what was wrong with me, and the doctors did not know it, things only got worse. Hanny Vriend taught me the HyperVen therapy. In the course of a few months I healed. A new world opened up for me!
My doctor did not believe that I had hyperventilation. The HyperVen therapy helped me to get rid of 95% of the symptoms. At the beginning of the therapy my doctor measured my carbon dioxide level. It was on a lower to normal value. Later my buffer was measured again and it was slightly higher again. As a result, my GP is now convinced the therapy works (but he is still amazed by it).
I hyperventilated for a long, long time. But now i am really happy again thanks to the HyperVen therapy!! Found the program very demanding. I always had the idea that all symptoms became worse over and over again. But in the end all physical hyperventilation symptoms disappeared. For everyone who is still doing the program: keep going. Although it seems a long way it is definitely worth it!
I am convinced of the effect of HyperVen therapy. I have done it for almost 3 months now. And I clearly notice an improvement in my breathing. It is more in balance now. And I am not trying to control my breath anymore, which actually only made things worse...
Most of my life, I am now 62 years old, I suffered from chronic hyperventilation. And the associated anxiety problems. HyperVen ensured that I have been free of symptoms now for several years now. I therefore regret that I did not discover the HyperVen therapy much earlier.
In the household I always did 3 things at the same time and at work as well. So it is not surprising that I burned out and suffered from chronic hyperventilation. But things are getting better now. I now often let things be and sometimes even do nothing. And that helps.
I would like to say "Thanks HyperVen." I want to tell my story to convince others to start or continue with HyperVen! In 2005 I became overloaded due to circumstances. I stopped working and thought my symptoms would go away if I took some rest. This did not happen. I actually only got worse. But now I can do everything again and lead a normal life. All thanks to HyperVen!
For thirteen years I had hyperventilation symptoms every minute of the day. And boy have I been looking for a solution! Until I ended up here. HyperVen felt like coming home. What a recognition! Immediately I started with the therapy. A lot of stress discharges followed. What consolation I received from your reactions... And from Rob's knowledge...
I started HyperVen therapy on May 8, twice a day. My initial scores were around 75 seconds. I am now at 127 seconds and the symptoms disappear super fast. HyperVen works very well. If only I had started with this earlier!
I am healed after 30 years of hyperventilation! I started hyperventilating when I was 16. (I am now 48!!!) Have been treated as a migraine sufferer all this time. I used medication for almost 30 years. Now I healed to the point I can work without medication! Did not expect this after such a long time. I feel good, have more energy and really do everything again.
It is time for my HyperVen success story. If other people can do it, you can do it too. For 8 years I had all sorts of physical symptoms. I had headache 6 of the 7 days of the week. And suffered from grinding teeth, sore neck and jaw. I was always dizzy. It has been 3 years since I started HyperVen therapy. And now I dare say that it really helped me a lot.
I would like to share my story here. If only to encourage others who might doubt the effectiveness of HyperVen therapy. To start with it anyway. And to encourage those who feel down. I am cured with HyperVen. It really gave me a "new" life again.
With this a word of thanks. For anyone who works on this great site and forums. I want to thank you all for your commitment. And for the always clear information and answers. I am sure that many people have already been helped. Especially considering all the information in the various topics!!! It certainly helped me a lot 🙂
I did not have a lot of symptoms, but I did suffer from chronic hyperventilation. Sometimes unexplained anxiety, skipping heart beats, heart pounding, etc. I see an incredible improvement! I found the key to recovery in HyperVen therapy.
One week ago I encouraged myself to do the HyperVen therapy. I had so many questions to which I all received an answer. I think this program is definitely worth it! There are so many other breathing exercises. But this is the most effective program that exists, I think.
It is quite strange to be cured. At the end of 2010 I suddenly got short of breath in my car. That was the first expression of chronic hyperventilation. 2 years later I had a terrible hyperventilation attack. An the ambulance was called for. I started searching for something that could help me. And I ended up on the HyperVen site. I have been completely free of chronic hyperventilation for several weeks now.
I did the HyperVen therapy for about four months. I was very happy with this. After each session I had more energy. And after a while I slept as lot better as well. I had a very hard time after my burn-out. Now most of the symptoms are gone.
I have been doing HyperVen therapy for 4 months now. And I am so glad that I started. More than 2 years ago I got my first panic attack. And from that day on my life was turned upside down. I hope you benefit from my story. The recognition can give you some peace, this was also the case with me.
Hyperventilation controlled my life. I also developed fears with it. Last year I could no longer handle it. I had a note for a while saying 'HyperVen'. From someone who benefited. So started as well. Slowly the hyperventilation has become less. Do you still have doubts to start? If you need it, do it immediately!
For all people doing HyperVen, just to encourage you. I started HyperVen therapy 2.5 years ago after years of suffering from chronic hyperventilation symptoms. And after a few months things started to go better. HyperVen works! I am the living proof!!
I feel so much better than a few months ago!! Yesterday I really felt the whole day (!) my old self. Not weird feeling in my head. Went to the shops. Had no attacks. It was so wonderful. I did HyperVen consistently for 2 months. I was completely down, cried a lot and then felt unfortunate. And now, I really feel so much stronger!! WE ARE GETTING BETTER!!! REALLY!!!
With this message I want to encourage everyone! Most days I did HyperVen therapy twice. Later only once a day. Now I stopped. Together with my husband I went to New York for 8 days. I felt fine. So I can say that I am cured after 3½ months. That is wonderful. I found the therapy demanding. Sometimes I did not feel well during the trials. But the result makes everything right. I will forward this broadly. And for everyone who is still doing it: PERSEVERE! It really works. A happy HyperVen customer.
For everyone who has just started with HyperVen, persevere! The beginning is the most difficult. But then the good time come. And they will last longer and longer! It is really worth it. Through HyperVen I can now work full-time again, I go out and shop without feeling bad. I wish you all good luck and perseverance!
I have stopped HyperVen for several months now and it is going fantastic. The hyperventilation including all the unpleasant symptoms have completely disappeared. And I lost most of my street anxiety. I bought an electric bicycle and I am cycling the surrounding villages and polder areas. My breathing is automatic again, as it should. In short, I am doing very well!!
I have not been on the forum for a year because I am completely cured of hyperventilation. Nevertheless, I had an incredibly heavy emotional year. Even with many fears. But no hyperventilation symptoms. I did HyperVen for about 4 months. My symptoms got worse in the beginning and my results were not even that great at the end. But the symptoms are now completely gone. Much strength to all of you and persevere!
The HyperVen program
The HyperVen program is an online therapy program with which you can cure yourself of hyperventilation. Many went before you. Take your destiny into your own hands and start today.
100% responsive layout
The HyperVen program automatically adjusts the screen, regardless of the screen size. So it also works on your smart phone!
We will support you!
The HyperVen staff will support you during the program by e-mail, by telephone or via our forums.
The session chart
In each session, the program keeps a chart for you to record your scores.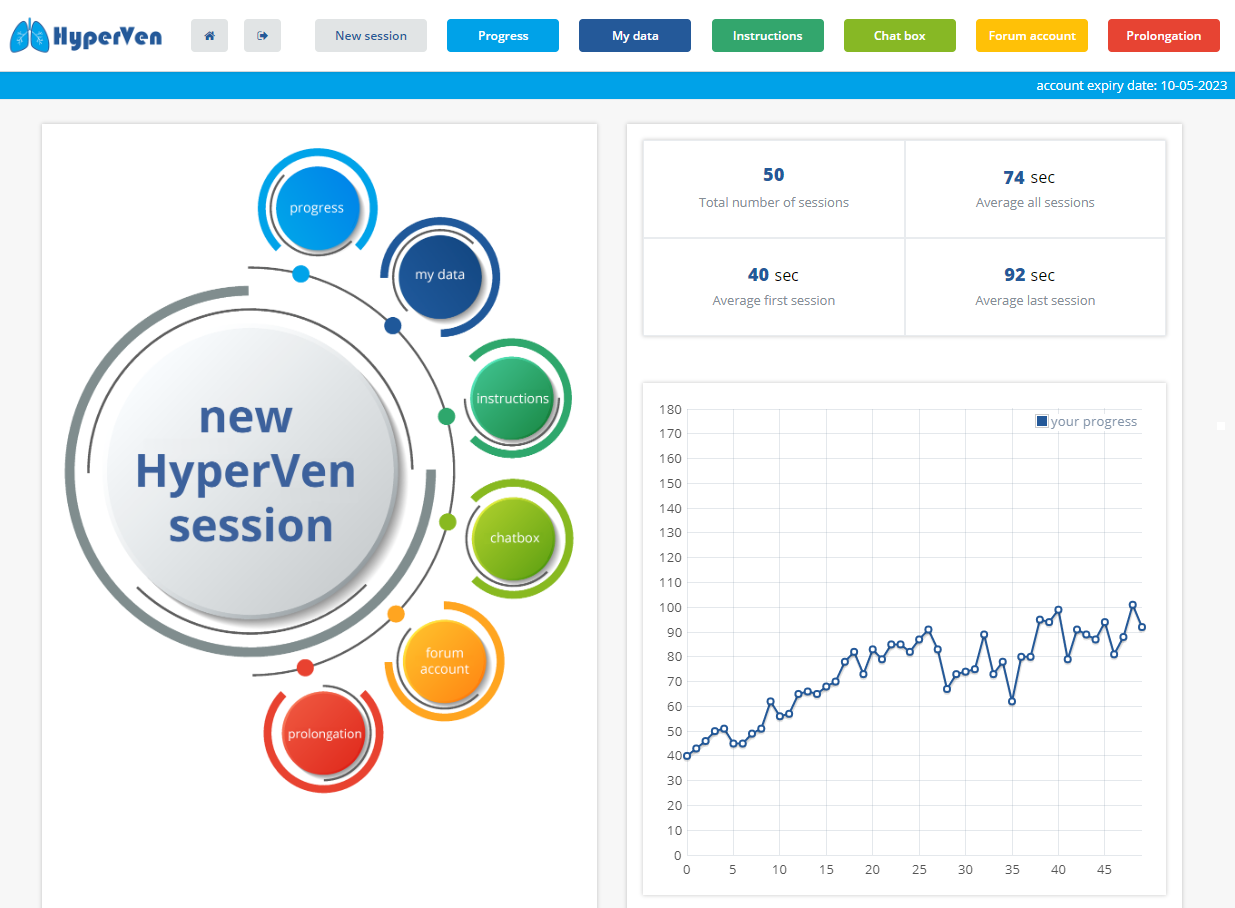 Your progress chart
All results are put together in your progress chart. In this chart your healing becomes visible.
The chatbox
In the program you will find a chat box in which you can chat with other users.
Your forum account
In the program you can create an account for the HyperVen user forums.
hyperventilation news / our blog
The healing process
The healing process goes through the following stages: